Our Home Page - Articles and Advice - Our Reports - Testimonials - Our Company - Services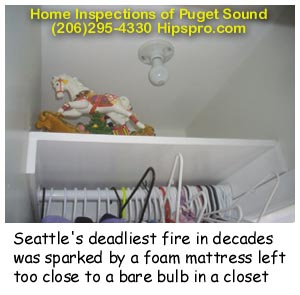 We found this in a closet yesterday, and reminded me to write about this very common and overlooked safety hazard. This type light fixture is the suspected cause for the fire in Fremont that killed 5.
Bare bulb fixtures can be dangerous, especially in closets where it is easy to make contact with flammables (clothes, blankets pillows) also are a hazard if you break the bulb accessing the upper shelf.
A compact florescent bulbs are safer, as they are much cooler and less likely to be a fire hazard. They is still the issue of breaking glass when you move things on and off the shelf
The best answer to to replace these fixtures with ones with protective cover.
May the victims rest in peace.
"Seattle's deadliest fire in decades was sparked by a foam mattress left too close to a bare bulb in a closet, Fire Chief Gregory Dean said during a Wednesday news conference.

Four children and a 22-year-old woman were killed in blaze, reported at just after 10 a.m. in an apartment at 334 N.W. 41st St. Another woman and a 5-year-old girl were able to escape as fire and heavy smoke trapped the other five occupants in a bathroom at the rear of the two-story apartment.

A light bulb inside a first-floor closet ignited a rolled foam mattress. One victim investigated the smoke then began opening windows and doors around the home in an attempt to clear the smoke. As the fire grew, Dean said, the open windows and doors acted as a chimney and fed the fire." The Seattle Times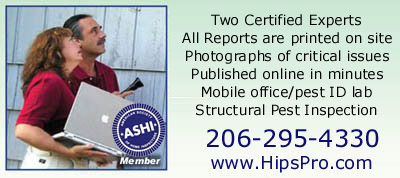 If you find this information useful, don't keep us a secret!
List us on any of your favorite networking / bookmarking sites