Our Home Page - Articles and Advice - Our Reports - Testimonials - Our Company - Services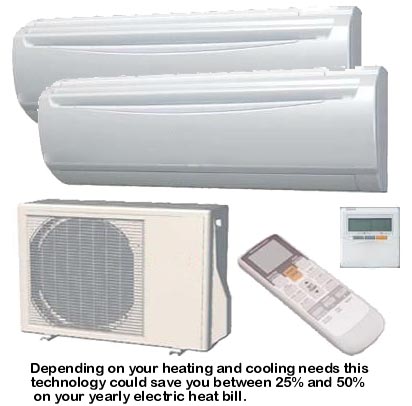 These units are a good alternative for homes with electric heating sources. They have 2 components, and interior air handling unit(s) and a outdoor compressor. Conduit connects the 2 parts with electrical power and refrigerant lines. Since the interior units are controlled separately, there is zonal control so you can save energy by controlling each zone. You only heat or cool the areas you need to.
They are easier to install then other types of heating. The hookup between the units is usually a single conduit requiring 1 3" hole. Since they have no ductwork there is no energy loss associated with central fan forced air systems (up to 30% alone). Overall efficiencies increases of up to 50% in the best case, making the payback faster.
You may be eligible for big discounts from Federal Tax credit, (expires Dec 31, 2010 - 30%), Washington State rebate program and Utility incentive program (for another $1500) bringing the price down by nearly 2/3rds and saving energy every day!